Thank you for contacting Wisdom Roofing, a representative will contact you shortly.
We Install and Recommend GAF
Professional installers have long preferred the rugged, dependable performance that only a GAF roof can offer, and have made our Timberline HDZ Shingles the #1 selling shingle brand in North America! Rated #1 in shingle quality by U.S. contractors and home builders.
When you choose GAF, youre in good company. More Americans have relied on GAF Timberline Shingles than any other brand.
Quality

Reputation

Timberline Shingles with Advanced Protection Shingle Technology are the #1 selling shingle brand in North America
Lasting

Protection

One in Four homes in the US is protected by a GAF roof
Highly

Qualified

GAF stays up to date on the latest technology and practices, ensuring expert installation, and ensures high property owner job satisfaction ratings
The Right

Roofing Contractor

When you choose a roofer, you put your family's safety in their hands. At Wisdom Roofing, we know how important it is to find a roofer near you, who you trust.
Go Back
GAF LIFETIME SHINGLES
The longevity of your roof system depends greatly on roofing materials of the construction. So if you seek the most efficient roofing solution, ask certified specialists from Wisdom Roofing for professional help. We specialize in residential roofing to assist property owners with their roof installation, repair, and replacement needs.
With so many options to choose from these days, picking the right color shingles for your homes' roof can be a challenge. Wisdom Roofing is a proud certified partner with GAF, one of the largest residential shingle manufacturers. We believe in GAF's products and the warranty they offer.
GAF Roof System
A roof replacement is an investment that you shouldn't hesitate on. Since your roof protects your interior the most, you shouldn't pick anything but the best as a replacement.
New HDZ Shingle
The new Timberline HDZ Shingles are compatible with traditional Timberline HD Shingles for the same look and feel homeowners and contractors rely on for beauty and endurance.

7 Key Danger Signs
Don't get caught with sudden, costly repairs. Keep a close eye on your roof and find out how to spot problems, including these 7 key danger signs - before they severely impact your wallet
Look For:
After a strong storm or wind-driven rain, take a look in the attic for signs of leaking. It could indicate damaged shingles, inadequate underlayment or deteriorated flashing.
Stains, or worse, mold, can be caused by leaks from outside the house or moisture trapped inside.
Moisture trapped in the house due to poor ventilation can cause exterior paint to peel and blister.
Excess moisture can also contribute to decay.
Dry, cracked, or easily broken shingles have reached the end of their useful life, and its time to invest in a new roof.
Inadequate ventilation can possibly drive up your household cooling costs by trapping hot air in the attic. Attic moisture can also drip into your insulation, reducing its effectiveness.
Vegetation, fungus, mold, or algae growth can cause dark stains on your shingles. That doesnt necessarily mean you need a new roof, but if you do choose to replace your shingles, ask for StainGuard protection available on many GAF Shingles
GAF Virtual Home Remodeler
Choose the Right Shingles!
Homeowners face a number of challenges when remodeling their home. One of the most common problems they encounter is choosing the material that will complement their home's architectural style. If you've considered upgrading your roof but have found yourself overwhelmed with the options, you can turn to GAF s Virtual Home Remodeler. Whether you have a traditional or contemporary design, youre sure to find the best GAF roofing options from their wide selection of shingle types and colors. You can even get a sneak peek of your new roof before installing it using GAFs revolutionary app.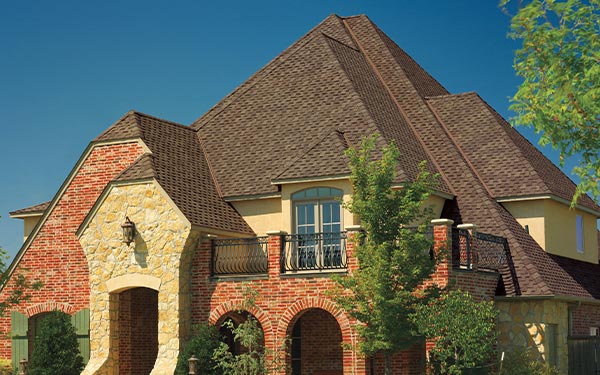 GAF Shingle Roof Warranty
We Protect What Matters Most
When you invest in a new roof, you expect that roof to last. But sometimes there are issues that have arisen during the manufacturing or installation process that are not discovered until after your roof has been on your home for a while. Understanding the different warranty options available to you before you purchase your new roof is vital.